Disclosure: Some of the links below are affiliate links. This means that, at zero cost to you, we will earn an affiliate commission if you click through the link and finalize a purchase.

Strengthsfinder 2.0: Discover Your CliftonStrengths by Tom Rath
Publication: 2007 by Gallup Inc.
Business | Health | Well-being
Strengths Finder 2.0 is not just a book, it is a concept that helps you discover your 5 key strengths so that you can understand yourself better and work on nurturing those talents to make them your strengths.
Each of us has a greater potential for success in a specific area, and the key to human development is building on who you already are. Strengthsfinder argues that should forget about fixing our weaknesses, instead, find areas where you have the greatest potential to develop strengths.
Advertisements
If you are interested in learning more about the different strengths, Gallup has an excellent YouTube Channel and Podcast filled with videos with diving down into individual themes.
About the Author
Tom Rath is one of the most influential authors of the last decade. He studies the role of human behavior in health, business, and economics. Rath writes and speaks on a range of topics, from well-being to organizational leadership. He has written several international bestsellers, including the #1 New York Times bestseller How Full Is Your Bucket?
In 2007, The Economist listed his book StrengthsFinder 2.0 as the top-selling business book worldwide. In total, Rath's books have sold more than 5 million copies, been translated into 16 languages, and made over 250 appearances on the Wall Street Journal bestseller list.
Rath is a senior scientist and advisor to Gallup, where he previously spent 13 years leading the organization's work on employee engagement, strengths, and well-being. He has also served as vice-chairman of the VHL cancer research organization.
Here's what you need to know about StrengthsFinder 2.0:
This book (Strengths Finder 2.0) includes a one-time use passcode that gives you access to the StrengthsFinder 2.0 test.
The book itself is a description of the strengths. I suggest taking the test first before reading the book.
After taking the test, it shows you the comprehensive Strengths Insight and Action-Planning Guide which includes our top 5 theme report
50 ideas for action (10 for each of the top 5 themes) based on thousands of best practice suggestions
Questions for us to answer for us to increase awareness of our talents and how to apply them.
It also has a quick reference guide with descriptions of all 34 Clifton StrengthsFinder themes.
Related Post: Book Notes: How Full Is Your Bucket
The Strength Equation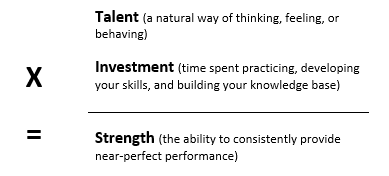 Every human being has talents that are just waiting to be uncovered.
Here are the 34 themes of talent that were identified by Clifton's team as the most common in their database. As you finish the assessment, you get to discover what your top 5 themes are,
Achiever – describes a constant need for achievement.
Activator – "When can we start?" This is a recurring question in your life. You are impatient for action.
Adaptability – You live in the moment. You don't see the future as a fixed destination. Instead, you see it as a place that you create out of the choices that you make right now.
Analytical – challenges other people: "Prove it. Show me why what you are claiming is true."
Arranger – You're a conductor. When faced with a complex situation involving many factors, you enjoy managing all of the variables, aligning and realigning them in the most productive configuration possible.
Belief – family-oriented, altruistic, even spiritual and to value responsibility and high ethics – both in yourself and others.
Command – leads you to take charge. You feel no discomfort with imposing your views on others.
Communication – rooted in comparison. You like to explain, to describe, to host, to speak in public, and to write.
Competition – no matter how hard you tried, no matter how worthy your intentions, if you reached your goal but did not outperform your peers, the achievement feels hollow. Like all competitors, you need other people. You need to compare.
Connectedness – things happen for a reason. You are sure of it because in your soul you know that we are all connected.
Consistency – balance is important to you. You are keenly aware of the need to treat people the same, no matter what their station in life, so you do not want to see the scales tipped too far in any one person's favor.
Context – you look back because that is where the answers lie. You look back to understand the present.
Deliberative – You are careful. You are vigilant. You are a private person.
Developer – you see the potential in others. Very often, in fact, potential is all you see. In your view no individual is fully formed.
Discipline – your world needs to be predictable. It needs to be ordered and planned. So you instinctively impose structure on your world. You set up routines. You focus on timelines and deadlines.
Empathy – you can sense the emotions of those around you. You can feel what they are feeling as though their feelings are your own. Intuitively, you are able to see the world through their eyes and share their perspective.
Focus – "Where am I headed?" You ask yourself. You ask this question every day. You need a clear destination.
Futuristic – the future fascinates you. As if it were projected on the wall, you see in detail what the future might hold and this detailed picture keeps pulling you forward, into tomorrow.
Harmony – you look for areas of agreement. In your view there is little to be gained from conflict and friction, so you seek to hold them to a minimum.
Ideation – you are fascinated by ideas. An idea is a concept, the best explanation of most events.
Includer – "Stretch the circle wider." This is the philosophy around which you orient your life. You want to include people and make them feel part of the group.
Individualization – your theme leads you to be intrigued by the unique qualities of each person.
Input – you are inquisitive. You collect things. You might collect information (words, facts, books & quotations) or you might collect tangible objects. Whatever you collect, you collect it because it interests you.
Intellection – you like to think. You like mental activity. You like exercising the "muscles" of your brain, stretching them in multiple directions.
Learner – you love to learn. The process, more than the content or the result, is especially exciting for you.
Maximizer – excellence, not average, is your measure. Taking something from below average to slightly above average takes a great deal of effort and in your opinion is not very rewarding.
Positivity – you are generous with praise, quick to smile and always on the lookout for the positive in the situation.
Relator – you do derive a great deal of pleasure and strength from being around your closest friends.
Responsibility – you take psychological ownership for anything you commit to, and whether large or small, you feel emotionally bound to follow it through to completion.
Restorative – you love to solve problems. You enjoy the challenge of analyzing the symptoms, identifying what is wrong and finding the solution.
Self-Assurance – you have confidence not only in your abilities but in your judgment.
Significance – in the truest sense of the word you want to be recognized. You want to be heard. You want to stand out. You want to be known.
Strategic – you sort through the clutter and find the best route. "What if?" Select. Strike.
Woo – stands for winning others over. You enjoy the challenge of meeting new people and getting them to like you.
StrengthsFinder Review
I've taken the assessment years ago and it helped me understand my natural talents. After reading the descriptions and reports for each one, I said to myself, "THIS IS SO ME."
I'm glad that I discovered this as I believe this is a game-changer. It made me interested in taking their full program but the cost is just too high for me to shoulder 'cos you know, I'm still a student.
Read this if you want to have a solid learning tool about yourself in others.
Find this book on AbeBooks | The Book Depository | Fully Booked PH
Thanks for reading! Comment below, I'd love to hear your thoughts!
Summary
Review Date
Author Rating
Product Name
Advertisements